FUJIFILM X-Photographer, William Chua will be conducting another photography workshop in Myanmar 
Working together with Beyond X Boundaries All Rights Reserved. Co . Reg. No 53312240J TA 3013, a STB licensed travel agent based in Singapore, he will bring participants to the beautiful Myanmar
Workshop is open to participants of all levels, inexperienced and experienced alike, any cameras users… even iphone..
Non Photographing Companions are welcome too..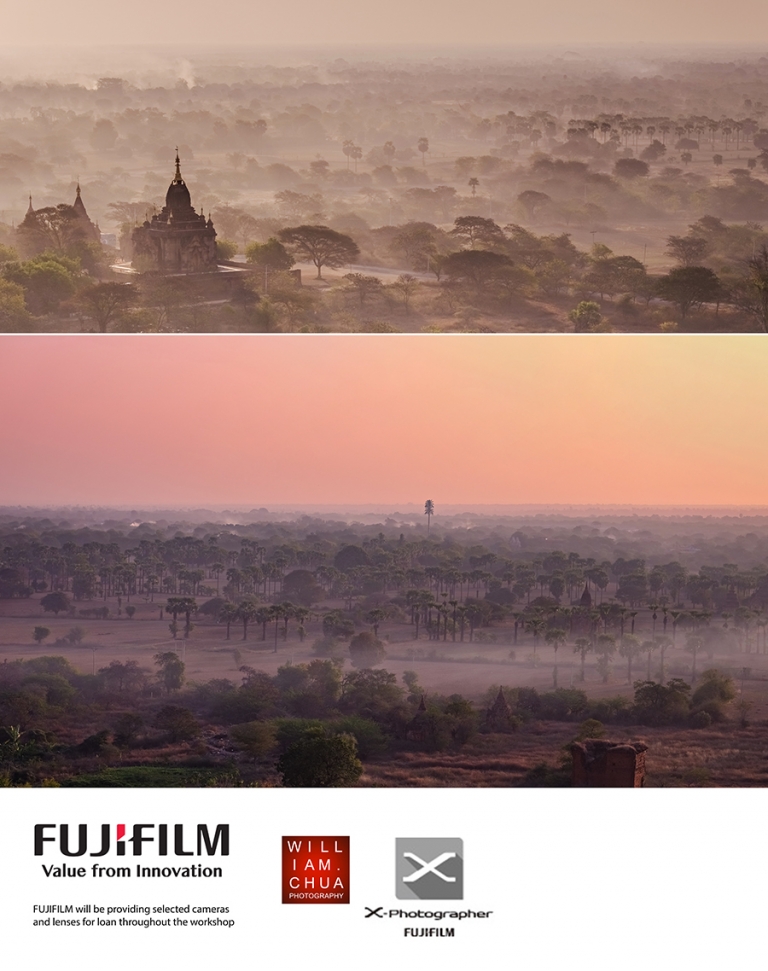 You can check out our videos of the Photo trip we did in Myanmar in February this year below..
More images can be seen here and here
Fujifilm will be providing selected cameras and lenses for loan throughout this workshop.(For each Individual Participant)
Details of the trip will be as follows
Itinerary
Day 1 January 4th : Singapore / Yangon / Heho / Inle Lake
Suggested flight schedule:
Singapore / Yangon SQ 307 0755 / 0920 (2h55m)
Upon arrival at Yangon International Airport, be met and transfer to the domestic airport for your flight to Heho.
Yangon / Heho K7 828 1230 / 1340 (1h10m)
Upon arrival at Heho Airport, have a simple lunch on the way to Inle Lake.
Today you will travel by private motorboat around the lake to discover its natural beauty, visiting floating gardens
Day 2 January 5th : Inle Lake 
Inle Lake
Indein Pagoda
Maing Thauk
Day 3 January 6th : Inle Lake/ Nyaung U/ Bagan
After breakfast, transfer to the airport for your flight to Nyaung U, gateway to Bagan.
Heho / Nyaung U K7 214 0925 / 1005 (0h40m)
A full day tour by car, with an experienced guide through Bagan will show you the best-known temples of the area. We start the day showing a first impressive view over the whole area. From here the guide plans his way to some of the other amazing temples that have been here for hundreds of years. Places like the Dhammayangyi, Sulamani, and Thatbyinnyu will certainly impress you.
Continue to Minnanthu for a picnic lunch..
In the late afternoon, continue by horse and cart to a location where you can catch the setting sun as it slides below the horizon, lighting up gold the prangs and spires of this age-old kingdom. As you contemplate the sinking sun and a bygone age, you will be served a refreshing sundowner.
Day 4 January 7th :  Bagan / Yangon
Wake up early and leave with your guide to one of the quieter temples to see the sun coming up behind 15th century pagoda, certainly a special moment.
Return to the hotel for breakfast.
A trip without temples but just pure, village life experiences to discover the dry zone.
Drive out of Bagan with 4×4 car while local women carrying fire wood etc. for the market and communities are starting their daily activities.
Late afternoon, transfer to the airport for your flight to Yangon.
Nyaung U / Yangon Y5 201 1735 / 1855 (1h20m)
Upon arrival, meet with your guide at the airport and transfer for dinner before checking in at hotel.
Day 5 January 8th :  Yangon
Yangon is a sprawling city with a relatively small downtown area including several markets, colonial buildings, the Yangon River and a very green area with tree-lined streets and several lakes. During this full day tour, you will observe the different faces of Yangon from the landmarks to the hidden markets that have seen only few westerners.
An early wake-up call is planned at 6:00 AM and the guide is expecting you in the lobby of your hotel at 06:30 AM, with your packed breakfast, to start with a visit to the fish market on the Yangon River when it's already busy. Continue to a vegetable market which is open 24 hours a day. By that time the monks are walking through the streets of Yangon to collect their alms and you will wait for them to pass and donate some food to them. Continue to the fruit and vegetable market.
After that,, you can take the local train to experience how the locals commute.  Lots of photo opportunities here..
Evening, visit the sacred Shwedagon Pagoda – a magical time when this gilded golden stupa is illuminated and there are fewer tourists crowding around. Your guide will reveal to you the history of the pagoda and its importance to the Burmese people as a revered Buddhist monument. Learn about animist worship of spirits called nats, a practice unique to Burmese people that still exists today alongside Theravada Buddhism.
Dinner will be at the Seeds Restaurant & Lounge, a romantic, contemporary fine dining getaway on Inya Lake, is the brainchild of Swiss Michelin Star Chef Felix Eppisser and his wife Lucia. Situated in a beautiful bamboo-crafted lake house, the restaurant offers picture-perfect views overlooking the lake, where you can sit and
enjoy an extraordinary culinary experience, with professional, personalized service and hospitality. The restaurant also follows a policy of supporting young, local people – helping to prepare and train them for careers in the hospitality industry.
Day 6 January 9th : Yangon / Singapore
Have a relaxing morning, and prepare for transfer to the airport for your flight back.
Yangon / Singapore SQ 997 1025 / 1510 (3h15m)
________________________________________________________________________________________________________________________
Group size and Pricing (per pax)
 Max group size 8. Min group size 4.
SGD $3500 twin sharing basis

Add SGD $450 for single room occupancy
____________________________________________________________________________________________________________________
The price includes:
1. Hotel accommodation per itinerary
2. All internal transfer on air-conditioned transport per itinerary
3. All meals per itinerary (Day 01: LD; Days 02-05: BLD; Day 06: B)
4. Domestic economy-class airfare (Yangon > Heho; Heho > Nyaung U; Nyaung U > Yangon)
5. Daily mineral water
The pricing does not include:
1. International Airfares from Singapore to Yangon
2. Personal and travel insurances throughout the journey
3. Personal expenses (Drinks, Alcohol, etc)
4. Guide and Driver tips
5. Visa fees if any
6. All others not mentioned in inclusions
_____________________________________________________________________________________________________________________
Email me at will03@williamchua.com for questions or reservations
If you do not hear from me in 2 days, do check your spam folder or watsapp me at 97577691
William Chua is an international award winning photographer based in Singapore. He does predominantly weddings, travel, landscapes, and wildlife photography
He has garnered awards from IPA (New York), MPA (London), PX3 (Paris), PDN, Sony World Awards and the Black and White Spider Awards
His works have been published in various publications (including SilverKris Magazine, Drukair Magazine, Asian Geographic, Geographical Magazine (UK) , PDN Magazine, Lux Magazine etc)
His works are also represented by Modern Art Etc, based in Los Angeles, California for sale as Fine Art Prints
Having led photography workshops to China, Morocco, Mongolia, Scandinavia, Iceland, Bhutan and Africa, and given numerous talks on photography, he hopes to be able to help photo enthusiasts take their photography to the next level.
He is a Fujifilm X Photographer and is also an ambassador for Pixerf  ( Asia's visual Marketplace)