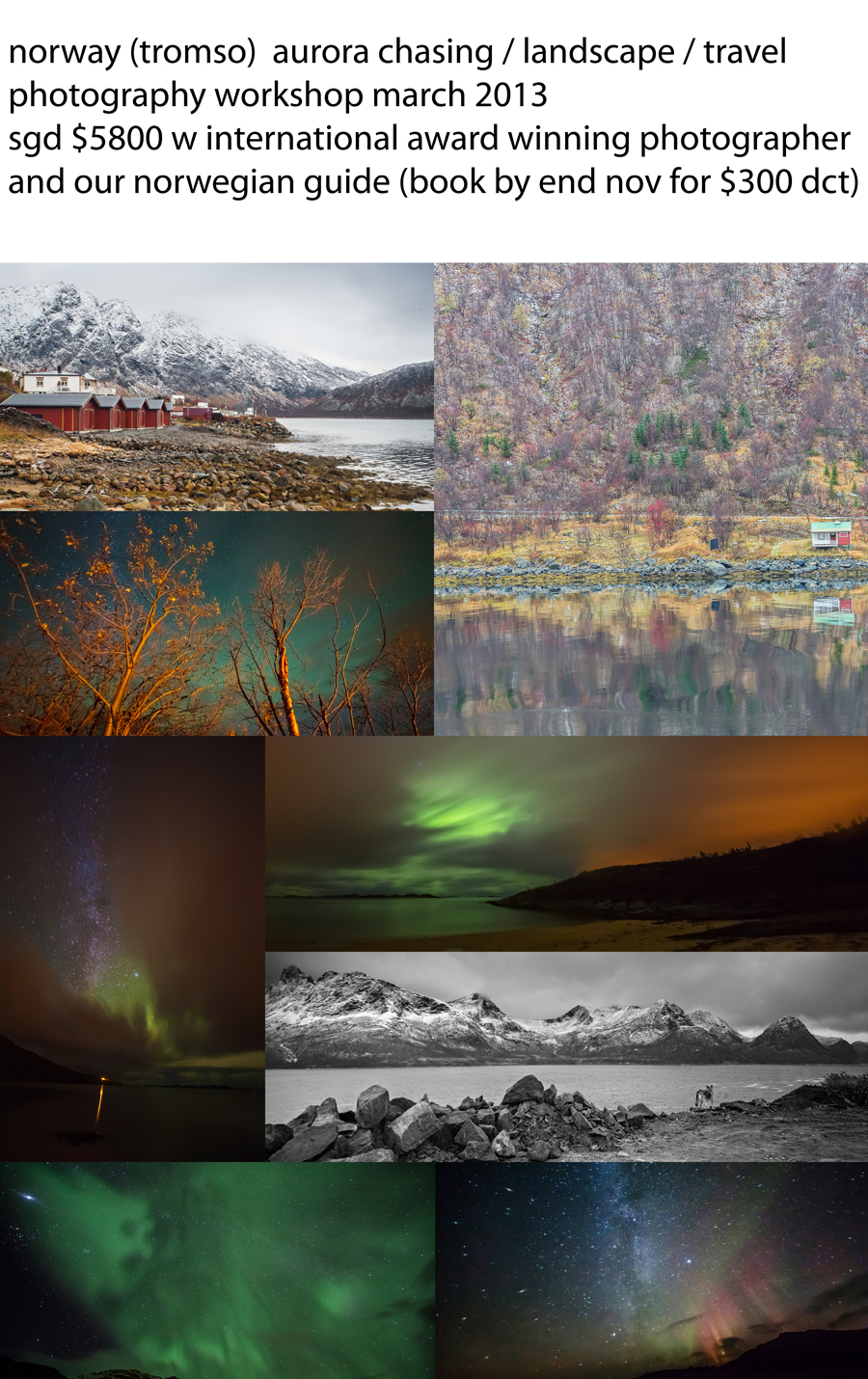 A photography workshop customised by international award winning photographer William Chua for photographers…
Having travelled to Finland and Norway for landscapes and aurora sightings.. William has
decided to bring fellow photography hobbyists to Tromso, Norway to witness the aurora for themselves
Northern lights are at its height this winter, other than that it will be 11 years before they get to this intensity.
And Tromso is one of the best places to witness this natural phenomenon
Of course, sightings are never guaranteed, but our esteemed partners in Tromso will ensure that
we will chase the lights late into the night to ensure a great experience for you
Besides the aurora, what trip to the Arctic will be without the husky rides ?
We will travel into the wilderness with our huskies for a unique experience and
photography opportunities
Included will be a boat ride to the coast , and a day trip to the fjords for
great landscape photography
William will guide the participants along for photography and there will also be critic sesssions
to help participants improve on their photos. A briefing will be done prior to the trip.
Workshop is open to participants from Beginner to any level
However, participants must be prepared for shooting late into the nite in freezing temperatures.
Details of the trip will be as follows
S$5800 ( S$300 discount applies if booked before end November 2012)
minimum 6 participants, maximum 10 participant
prices are based on twin sharing basis
Arrive Tromso on 19th March 2013
Checkout 24th March 2013
Inclusions
5 nights hotel accomodation
5 northern lights hunt with dinner
1 Husky ride with lunch
1 Day tour to the fjords with lunch
1 boat ride to the coast with lunch
Thermal suits
Boots
Exclusions
Flights to Tromso
Visa if non Singaporeans
Personal travel insurance
Photography equipment
All expenses of a personal nature
All others not mentioned in inclusions
Email me at will03@williamchua.com for questions or reservations
About William Chua
William Chua is an international award winning photographer based in Singapore. He does predominantly weddings, travel, landscapes, and wildlife photography
He has garnered awards from IPA (New York), MPA (London), PX3 (Paris), PDN, and the Black and White Spider Awards
His works have been published in various publications (including Asian Geographic, Geographical Magazine (UK) , PDN Magazine, Lux Magazine etc)
Having led photography workshops to Bhutan and Africa, and given numerous talks on photography, he hopes to be able to help photo enthusiasts take their photography to the next level.
Awards
3rd Place in IPA 2012 competition ( Special : Panoramic)
14 Honorable Mentions in IPA 2012 Competition ( categories include Wildlife, Nature, Travel/Tourism, and Landscape)
2012 Black and White Spider Awards ( 4 nominees in Wildlife, Architectural and Silhouette
2012 PDN Great Outdoors competition (parks and safaris category) winning shot
2012 Creative Asia Street and Travel Category 1 Silver
2012 Creative Asia Landscape Category 2 Bronze
2012 Creative Asia Street and Travel Category 3 Bronze
2011 Master Photographer of the Year (Far East)
2011 Winner MPA Landscape and Travel Category
2011 3 awards of excellence Landscape and Travel Category (MPA Far East)
2011 Winner Pets Category (MPA Far East)
2011 IPA Best of show exhibition (pets)
Honorable Mention in Photography Masters Cup 2011 (Silhouette)
2nd Place in IPA 2011 Competition ( Special : Moving Images)
3rd Place in IPA 2011 Competition ( Special : Moving Images)
3rd Place in IPA 2011 Competition ( Special : Panoramic)
3rd Place in IPA 2011 Competition ( Special : Pets)
14 Honorable Mentions in IPA 2011 Competition ( categories include Wildlife, FineArt, Pets, Family, Travel/Tourism, Landscape and Children)
Silver Award in 2011 Px3 Competition ( Fine Art / landscape)
Bronze Award in 2011 Px3 Competition ( Press / Nature / Environment )
Honorable Mention in 2011 Px3 Competition ( Press / Other Photojournalism )
2nd placing in the 6th (2011) Annual Black & White Spider Awards (wildlife category)
7 nominees in the 6th (2011) Annual Black & White Spider Awards (categories include silhouette, people, fine art, architectural)
16 honorable mentions at the International Photography Awards 2010 (categories include wildlife, landscapes, travel tourism, fine art etc)
The Award of Excellence (Travel Category) in the Master Photography Awards (2010)
Top Prize in the Travel category in the MPA competition (2009)
The Award of Excellence for the BIPP (British Professional Photography Awards) in the Landscapes and Travel category (2008)