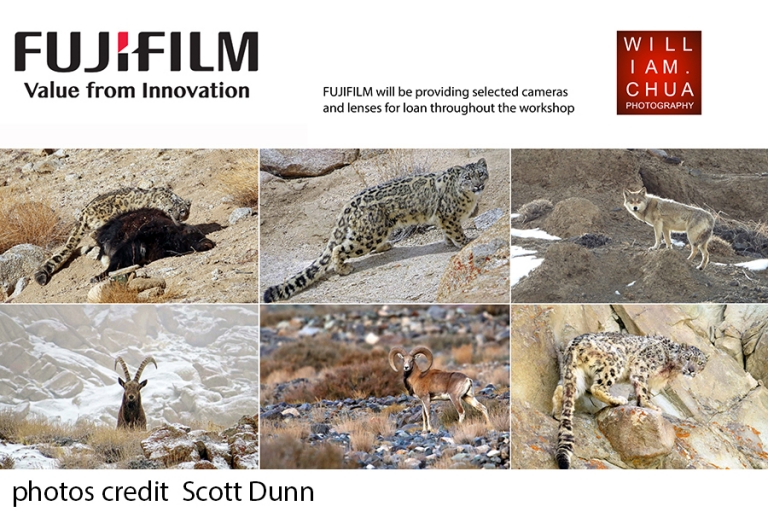 International award winning photographer , and FUJIFILM-X Photographer, William Chua, is back with an amazing trip for
wildlife photographers in March 2020.
After successful workshops in various parts of the world, he has decided to bring his customers to the Himalayas
in search of the Ghost of the mountains ( the snow Leopard )
He has once again collaborated with Scott Dunn Singapore Reg. No 201619294W TA 02933 for this amazing trip
If snow leopards are not your cup of tea, and more interested in African Wildlife, check out my African trips below
Botswana
Kenya ( confirmed )
DO NOT WORRY IF YOU DO NOT HAVE LONG LENSES
Fujifilm will be providing selected cameras and THE Fujinon Lens XF100-400mm for loan throughout this workshop.(For each Individual Participant)
William will guide the participants along for photography and there will also be critic sesssions
to help participants improve on their photos. A briefing will be done prior to the trip.
Workshop is open to participants of all levels, inexperienced and experienced alike.
Non Photographing Companions are welcome too..
The objective of the trip is to help people take better wildlife images
COST INCLUDES:
– Accommodation on twin sharing basis;
– Meals as stated;
– All tours, transfers
– Park entrance fee
– Domestic Flights
COST EXCLUDES:
– Visa;
– Travel insurance;
– Gratuities to guide and driver;
– Personal expenses such as telephone charge, bar bills.
– International Airfare
WHAT TO EXPECT:
Estimated temperature: Range from -12 to -12 degrees Celsius at night to 0 to +3 degrees Celsius during the day.
Altitude – Leh is at around 3,500m above sea level and the lodge is around 3,700m above sea level.
Trekking – Most of the time, cars are used to drive guests to specific spots for the spotting but there may be a bit of walking to spots inaccessible by vehicle. The estimated walking distance is less than 2km max. per day
Nett Cost sgd $12000 ( twin sharing) (excluding international airfare)
4 PAX TO CONFIRM THE TRIP
Day 01 29/02/2020 ( Full Board )
DELHI (DEL) – LEH (IXL) ECONOMY CLASS
Acclimatization and Briefing
It is mandatory that you have two days to relax in order for you to
acclimatise to the altitude.
The 2 days scheduled here is the minimum required as you will be going
to a higher altitude and will be doing a fair amount of walking. Meet with staff from the Snow
Leopard Conservancy for a briefing on the history of snow leopard
conservation in Ladakh with insight given into the current threats to snow
leopards and the strategy's adopted to combat these threats.
Day 02 01/03/2020 ( Full Board )
Sightseeing in and around Leh
Today you set out for an extraordinary drive East heading towards
Taglang La and the villages of Gya, Lhato and Meru.
It's a fantastic drive taking you away from the valley of the Indus up a
subsidiary valley to an extraordinary area even by Ladakhi's standards
that marks the line where the Indian mainland collided with and drove
under Asian land mass. There is some dramatic scenery here and you
have a chance of sighting wildlife including Blue sheep, Golden eagles
and Bearded vultures.
Day 03 02/03/2020 ( Full Board )
LEH – ULLEY VALLEY
Private transfer from Leh to the Ulley Valley., Approximately 2 to 3 hours
Drive west today on the road to Kargil and Srinagar, generally following the Indus River. You pass through the small town of
Nimmu – one of the most important in Ladakh, where the Zanskar river meets the Indus. After a little over an hour you head
north on a road marked to Likir– one of Ladakh's famous Buddhist monasteries. This is all snow leopard country. The
landscape here is even bigger, more expansive and open, until you turn off onto a dirt road, winding up a narrow valley,
following a stream called the Ulley Chhu. Smaller valleys intersect and the guides have their heads craned all the time,
scanning the hill sides and the skyline for any silhouette. This is excellent Ibex country and there are few more evocative
sights than a magnificently horned male Ibex standing vigil on some impossibly narrow outcropping, a few thousand feet
over a plunging cliff.
During your four nights at Snow Leopard Lodge, each day you will have
the chance to venture out into the wilderness with your experienced
guide in the hope of spotting these magnificent creatures while also
being treated to a whole host of wildlife.
You will have the chance to explore 3 valleys, which, apart from snow
leopards, are great for finding urial, Ibex, wolf and Himalayan fox. You will
have the chance to explore on foot and by SUV. The commitment of the
guides is outstanding as they work closely with the local people using a
network of local intelligence to narrow down sites where the snow leopards are likely to be. In the process you are given the
opportunity to really immerse in local culture gaining insights into folklore, customs and traditions.
Day 04 03/03/2020 ( Full Board )
Snow Leopard Spotting
Day 05 04/03/2020 ( Full Board )
Snow Leopard Spotting
Day 06 05/03/2020 ( Full Board )
Snow Leopard Spotting
Day 07 06/03/2020 ( Full Board )
ULLEY VALLEY – LEH
Private transfer from Ulley Valley to Leh., Approximately 2 to 3 hours
Day 08 07/03/2020
Private transfer from Hotel to Kushok Bakula Rimpochee Airport, Leh. , Approximately 15 minutes
LEH (IXL) – DELHI (DEL)
Scheduled domestic flight from Kushok Bakula Rimpochee Airport, Leh to Indira Gandhi International Airport, Delhi
For the flight home in the evening
Email me at will03@williamchua.com for questions or reservations or watsapp me at 97577691
About William Chua
William Chua is an international award winning photographer based in Singapore. He does predominantly weddings, travel, landscapes, and wildlife photography
He has garnered over 100 international awards from WPPI, IPA (New York), MPA (London), PX3 (Paris), PDN, and the Black and White Spider Awards etc
And is also the PX3 Wildlife category Gold Award winner in 2014
His works have been published in various publications (including Singapore Airlines SilverKris Magazine, Asian Geographic, Geographical Magazine (UK) , PDN Magazine, Lux Magazine etc) and his images are also represented by Modern Art Etc, based in Los Angeles, California for sale as Fine Art Prints
His images has also been consistently placed with the Natgeo Editor's favorites through the years
Having led photography workshops to China, Morocco, Mongolia, Scandinavia, Iceland, Bhutan and Africa, and given numerous talks on photography, he hopes to be able to help photo enthusiasts take their photography to the next level.
He is a Fujifilm X Photographer and is also an ambassador for Pixerf  ( Asia's visual Marketplace)