FUJIFILM X-Photographer, William Chua will be conducting another photography workshop in Jiangnan (China) 
Working together with Beyond X Boundaries All Rights Reserved. Co . Reg. No 53312240J TA 3013, a STB licensed travel agent based in Singapore, he will team up with Albert Lim,   to lead participants to the picturesque Jiangnan.
Workshop is open to participants of all levels, inexperienced and experienced alike, any cameras users… even iphone..
Non Photographing Companions are welcome too..
For  reviews of our previous trips , please check out the links below and scroll down for the participants' comments
http://www.williamchua.com/blog/jiangnan-photography-workshop-completed/
http://www.williamchua.com/blog/jiangnan-photography-workshop-in-may-2017-completed/
some comments from our trip in December 2019
Jiangnan Photography Workshop 11-15 December 2019
As a follower of the Fujifilm ClubX Group on Facebook I have been very impressed by the pictures posted by William Chua Photography, and so jumped on the chance to sign up for his Jiangnan (China) Photography Workshop that was held on 11-15 December, 2019.  Being an amateur photographer I felt that I needed new inspiration, professional coaching and a change from the usual scenery (I live in Perth, Western Australia) in order to take myself to the next level, skills-wise.  I'm really pleased to say that the workshop ticked all boxes: William and his co-instructor Albert Lim are both great photographers and excellent teachers.  William has a wonderful eye for detail and exploits light to make the mundane extraordinarily beautiful.  As a "local", Albert was able to provide us with background on the sites we visited, making the workshop more complete and enjoyable.  The shooting locations themselves were very well chosen and allowed everyone to take the quintessential photographs of the Chinese countryside that one sees on National Geographic and other travelogues.  Both William and Albert are very familiar with the locations and they were able to advise us on the best angles, perspectives and lighting for our shots.
The workshop itself was well planned and organised: we were met by William and Albert at Hangzhou airport; the hotels were very clean and comfortable, and the meals (all breakfasts, lunches and dinners are included in the package) were wholesome and excellent. We travelled on a spacious and clean Toyota bus that was  driven by a competent and safe driver.
A huge selling point of the workshop was the ability to borrow and try out photographic equipment from Fujifilm Singapore.  I had been intrigued by the capabilities of Fujifilm's GFX medium-format camera system and William was kind enough to arrange the loan of a GFX 50S camera and two lenses (the Fujifilm GF 110 mm f2.0 and the GF 45 mm f2.8) for the duration of the workshop.  The GFX 50S turned out to be the best camera I've used and both the GF 110 mm and 45 mm lenses were exceptional as well.  Needless to say I'm sold on the GFX system and quickly purchased three GF lenses on my return to Perth (the GF 23 mm f4.0, GF 45 mm f2.8 and GF 110 mm f2.0).  The camera itself will have to wait, as I'm still undecided on whether to go for the GFX 50S, 50R or the superlative GFX 100.
Thank you once again William and Albert – it was indeed a humbling but very educational experience to have had the opportunity to shoot under your tutelage.  All in all it was money well spent: I'd be happy to go on other of your workshops in the future, and will also be happy to recommend these to my friends without reservation.
Best regards David Kuek
___________________________________________________________________________________
My Husband stumbled upon this photography trip led by William Chua and his friend Albert Lim.
I followed my husband as a non photographer companion. Yet I was so grateful to Fujifilm for lending me a lightweight camera Fujifilm XT-30. I enjoyed the experience with the many tips given by both.
The places we were led to were all incredibly picturesque and most suitable for photography. Both photographers were so willing to impart their skills.
The trip was very well planned and executed. As they were both foodies, they took us to good places for meals and that in itself is a wonderful experience.
this trip is highly recommended for both the photographers and companions.
thank you guys..
Kathleen and Colin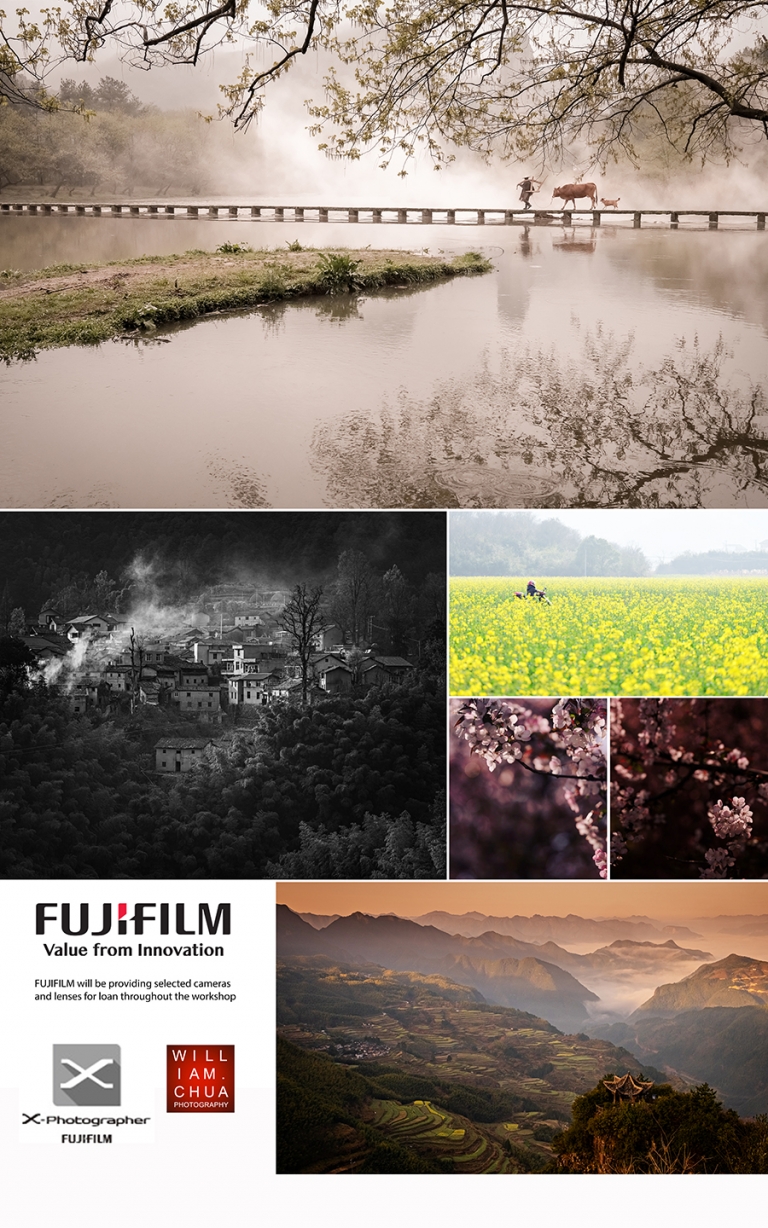 a video clip of the winery that we will be going to
winery from William Chua on Vimeo.
Fujifilm will be providing selected cameras and lenses for loan throughout this workshop.(For each Individual Participant)
Details of the trip will be as follows
Itinerary
March 17 Day 1: Arrival Hangzhou
Depart Singapore Changi Airport for Hangzhou Aiport
Pick up at Hangzhou International Airport. Depart for Zhuji
Check in to Hotel
March 18 Day 2: Zhuji – Suichang – Nanjianyan
Landscape shoot at Jiaotan village
Landscape and daily life shoot at Dake terrace field village
Transit to Nanjianyan and check in mountain top hotel
March 19 Day 3: Nanjianyan – Songyang
Sunrise shoot at Nanjianyan
Transit to Songyang
Visit Sandu mudhouse villages (Yangjiatang and Youtian)
Transfer to Songyang Sidu
March 20 Day 4:  Songyang old village – Xiandu
Sunrise landscape shoot
Landscape shoot of Xikeng from view point
Explore Xikeng old village
Transfer to Xiandu
March 21 Day 5:  Xiandu – Tongshan – Zhuji
Sunrise shoot at Zhutanshan
Transfer to Tongshan
Landscape, People at Rapeseed Flower Fields
March 22 Day 6 : Zhuji – Zhaojia- Winery – Airport
Head out to Zhaojia for Cherry Blossoms
Transfer to Shanxiahu
Traditional Chinese winery
Send off to Hangzhou International Airport
The itinerary is subjected to changes  due to weather, unforeseen circumstances or acts of God.
________________________________________________________________________________________________________________________
Group size and Pricing (per pax)
 Max group size 10. Min group size 6.
SGD $1688 twin sharing basis

Add SGD $290 for single room occupancy
____________________________________________________________________________________________________________________
The price includes:
1. Hotel accommodation per itinerary
2. All internal transfer on air-conditioned transport per itinerary
3. All meals per itinerary
4. Entrance fee for all places of interest per itinerary
5. Daily mineral water
The pricing does not include:
1. Airfares from Singapore to Hangzhou Airport and back (Scoot)
2. Personal and travel insurances throughout the journey
3. Personal expenses (Drinks, Alcohol, etc)
4. Guide and Driver tips
5. Visa fees if any
6. All others not mentioned in inclusions
Recommended Flights
Scoot Airlines TR188, Depart SIN 16:45 16Mar, Arrive HGH 21:45 16Mar
Scoot Airlines TR189, Depart HGH 23:15 21Mar, Arrive SIN 04:35 22Mar
_____________________________________________________________________________________________________________________
Email me at will03@williamchua.com for questions or reservations
If you do not hear from me in 2 days, do check your spam folder or watsapp me at 97577691
William Chua is an international award winning photographer based in Singapore. He does predominantly weddings, travel, landscapes, and wildlife photography
He has garnered awards from IPA (New York), MPA (London), PX3 (Paris), PDN, Sony World Awards and the Black and White Spider Awards
His works have been published in various publications (including SilverKris Magazine, Drukair Magazine, Asian Geographic, Geographical Magazine (UK) , PDN Magazine, Lux Magazine etc)
His works are also represented by Modern Art Etc, based in Los Angeles, California for sale as Fine Art Prints
Having led photography workshops to China, Morocco, Mongolia, Scandinavia, Iceland, Bhutan and Africa, and given numerous talks on photography, he hopes to be able to help photo enthusiasts take their photography to the next level.
He is a Fujifilm X Photographer and is also an ambassador for Pixerf  ( Asia's visual Marketplace)