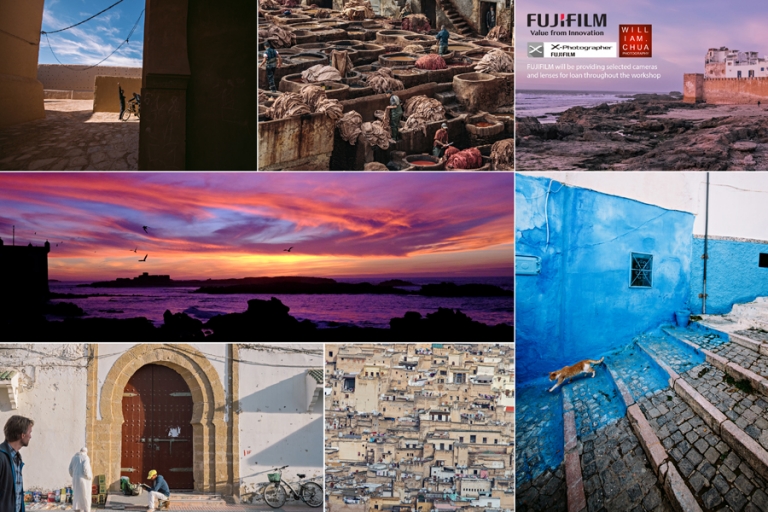 After conducting a successful workshop in Morocco in 2016, William will be back in 2017
He will guide the participants along for photography and there will also be critic sessions
to help participants improve on their photos. A briefing will be done prior to the trip.
Workshop is open to participants of all levels, inexperienced and experienced alike.
Non Photographing Companions are welcome too..
Fujifilm will be providing selected cameras and lenses for loan throughout this workshop.
Some comments from the participants last year..(from the trip and their experience with Fuji Cameras) 

Ying zi
FUJI: I really enjoyed the Fuji camera, small body in spite of a larger sensor size compared to my Olympus. Love the tilt-screen and monochrome filters, battery life was very impressive too. Ergonomically, I prefer the XT1 which has a bigger grip which makes shooting with one hand a lot easier. The 35mm lens is a god-sent, the picture quality is amazing. If Fuji released more primes, perhaps I'll switch systems. 🙂
LEARNING: Shooting with William has been increasingly insightful. His ability to translate capturing beauty into actionable words is especially helpful for those not born with a photographer's eye. He helped me see beauty in shadows and busted the curse of harsh light. I find it especially helpful to get William's critique on my shots on how I can improve the execution of a good idea. His shoot-first-sleep-later attitude has also inspired much.
Jean 
Great camera for street photography – it's small size makes it inconspicuous enough to not be noticed when trying to take photos incognito.
The swivable led screen allows for taking photos from difficult angles and tight corners. Would love it more if it is more "swivable".
Good performance in low light conditions.
Love the black and white effect setting found in the camera. The other film effects were also great options to explore.
The dials makes it easy to control and change settings – was intuitive enough for me to learn to manually control the settings.
Wish the battery life could last longer.
Also wish that the directional buttons at the back of the camera was more "popped up" so that it is easy to fiddle with the shortcuts when using the view finder to take photos.
Check out some of the photos taken in Morocco this year

morocco from William Chua on Vimeo.
Details of the trip will be as follows
DAY 01 (22/04/2017)
SINGAPORE / ESSAOURIA
Fly Singapore/London – Heathrow SQ 306 0110/0745 – Daily (13h35m)
Upon arrival, make your way to Luton Airport for the flight.
Fly London – Luton / Essaouria Easyjet 1240/1620 (3h40m)
Upon arrival, meet your guide and driver.
Drive to Essaouria and check into your hotel, a Bohemian Retreat on the Atlantic Coast.
(Dinner included)
DAY 02 ESSAOURIA (Breakfast, Lunch, Dinner included)
DAY 03 ESSAOURIA / CASABLANCA (Breakfast, Lunch, Dinner included)
DAY 04 CASABLANCA / FEZ (Breakfast, Lunch, Dinner included)
DAY 05 FEZ (Breakfast, Lunch, Dinner included)
DAY 06 FEZ / CHEFCHAOUEN (Breakfast, Lunch, Dinner included)
DAY 07 CHEFCHAOUEN (Breakfast, Lunch, Dinner included)
DAY 08 CHEFCHAOUEN (Breakfast, Lunch, Dinner included)
DAY 09 (19/03/2017) CHEFCHAOUEN / TANGIER / SINGAPORE (breakfast included)
Another last morning before we drive about 2 hours to Tangier Airport.
Fly Tangier / Madrid BA 7271 1225/1445
Madrid/London – Heathrow BA 7058 1555/1720 (4h55m)
London – Heathrow/Singapore SQ 319 2050/1655+1 (13h50m)
DAY 10 (01/05/2017)  Reached Singapore
LAND TOUR PRICE:
S$ 5500 per person in twin room
Single Supplement: S$ 790 in a single room
Package price includes the following services:
• Accommodations in all locations in Morocco
• Meals as noted in the itinerary
• coach, driver & fuel from day 1 to day 9.
• English speaking guide from day 1 to day 9.
• Entrance fees to monuments while doing the tour with the guide.
COST EXCLUDES:
International airfare, Domestic airfare, airport taxes and fuel surcharges
Visa Fees (if required)
Travel insurance;
Beverages in the restaurants where meals are included
Gratuities to guide and driver and other personal expenses (laundry, minibar etc.)
All others not mentioned in inclusions
Email me at will03@williamchua.com for questions or reservations
About William Chua
William Chua is an international award winning photographer based in Singapore. He does predominantly weddings, travel, landscapes, and wildlife photography
He has garnered awards from IPA (New York), MPA (London), PX3 (Paris), PDN, and the Black and White Spider Awards
His works have been published in various publications (including SilverKris Magazine, Asian Geographic, Geographical Magazine (UK) , PDN Magazine, Lux Magazine etc)
His works are also represented by Modern Art Etc, based in Los Angeles, California for sale as Fine Art Prints
Having led photography workshops to Morocco, Mongolia, Scandinavia, Iceland, Bhutan and Africa, and given numerous talks on photography, he hopes to be able to help photo enthusiasts take their photography to the next level.
William's Image of the Tannery in Fez has also made it to Natgeo Editor's favorite